Custom Quote Request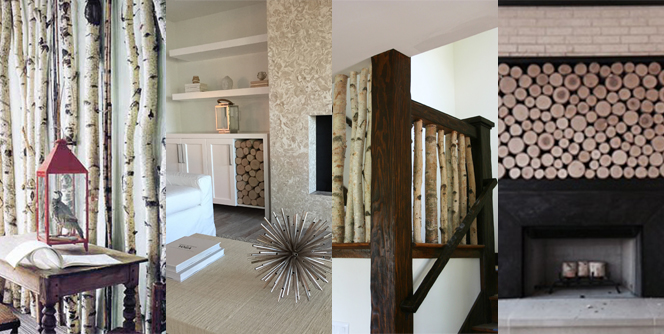 With our beautiful WHITE BIRCH, the design possibilities are endless! Let Wilson Enterprises expertly assist you in your planning process! Our team is dedicated to providing you with exceptional quality and customer service!
We have a wide range of WHITE BIRCH logs and poles available ranging in size up to 10" in diameter and up to 96" (8') long. So if you are designing a "fill-a-space" for your fireplace or want to make a statement tree wall, Wilson Enterprises is ready to be a part of your team!
In order to provide you with a custom quote for your project, please fill in the information below. Be as specific as possible to ensure we have all of the necessary information in order to provide you with the most accurate quote. One of our knowledgeable customer service representatives will be in contact with you within 2 business days.
=You may also call us toll-free at 1-888-430-7667 with any questions about our custom cut birch products! We are here to assist you Monday – Friday from 9:00am – 5:00pm EST.
IMPORTANT INFORMATION REGARDING CUSTOM CUTS:
PROCESS: For all of our custom cut orders, our process is to hand pick the logs, cut them, put them through our DRY KILN, clean the logs, and then ship. All of our WHITE BIRCH products undergo this process which sterilizes them and wicks away moisture to ensure no bugs or mold. The dry kiln process preserves the integrity of the WHITE BIRCH bark and certainly sets us apart from our competitors. You'll thank us for this!!
DIAMETER: We also feel compelled to mention that nature does not grow trees uniformly – thus, one end of your WHITE BIRCH log/pole will be slightly smaller/larger in diameter. If you need very specific dimensions, please consider stating this in your request by indicating "no smaller than, or no larger than."
PRODUCT COSTS: We're sure you'll agree, the larger the log, the heavier the log! Accordingly, our product and shipping costs will reflect that ratio: the heavier the log, the higher the price.
SHIPPING COSTS: We may provide you with an estimate for shipping costs. Please realize this is an educated estimate subject to change once your order has been packaged and weighed. At this point an adjustment may be made so that you will receive the most accurate quote for shipping costs.
RETURNS: Our customer service representatives excel at insuring you get the WHITE BIRCH product you desire. Accordingly, we cannot honor returns on custom cuts.
USDA ENDORSED: Wilson Enterprises is USDA and gypsy moth certified – additional attributes that distinguish us from our competitors!
FILL-A-SPACE: If you have a space you would like filled with our beautiful WHITE BIRCH, simply provide us with the dimensions of your space along with the desired dimensions of the logs. We will mock up your space size, fill it with logs (add a few more for good measure!) and provide you with a custom quote! Where's the "Easy button?"